Hulunbeier new city centre (Inner Mongolia, China)
Master plan, invited competition
Foshan slow-city (Guangdong province, China)
Master plan, invited competition
Zhuhai city new seaside area for tourism, business and residence (Guangdong province, China)
Master plan, invited competition (Guandong province, China)
Photography: Vallo Kruuser (Eesti Ekspress) 2x, Andres Putting (Delfi) and Andrus Kõresaar
Completed:
2006
Architecture: Lembit-Kaur Stöör, Tõnis Kimmel at
KOKO architects
.
Interior design: Liis Lindvere, Raili Paling (I'm a big fan of these young ladies' talent!)
Awards:
2006 Estonian Cultural Endowment prize for architecture and interior design for combining innovative and traditional architecture.
Publications:
The new, privately funded synagogue in central Tallinn, described by news agencies as an ultramodern, airy structure, can seat 180 people in its main worship area.
---
Work in progress
My role: small-scale elements design, consulting technical planners from architectural department side,
First stage expected to be completed: autumn 2009
---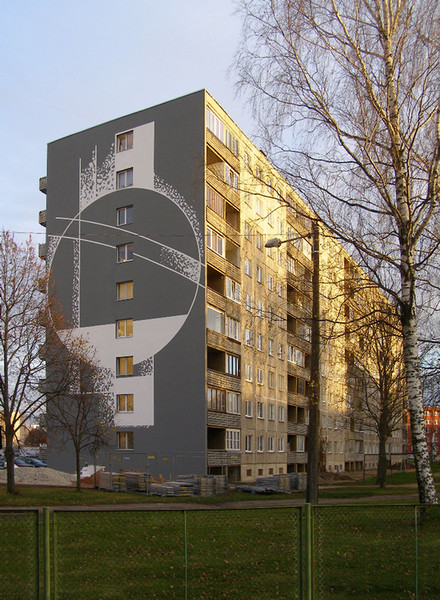 Concept: 2009
First wall decorated: 2009
A group of Soviet-era nine-storey apartment blocks are going to be insulated in the near future. The houses are situated in the biggest Soviet-era residential areas - Annelinn. The nine-storey giants are presently finished with North-Estonian limestone gravel, standing out in the dominantly five-storey colourful painted buildings. To keep their outstanding nature with a new finishing, a concept was worked out to transform the empty walls into an open-air art exhibition. Illustrations created by Estonian graphic artists in 1920ies and 1930ies are to be enlarged onto the empty walls with names of the pieces written underneath.
---
Ecological villa for a young Danish designer and his family near Tartu, Estonia.
Ecologically responsible solutions were used:
structure: mainly wooden
insulation: cellulose, made of recyled paper (tselluvill)
interior finishing: mostly clay, painted
heating: earth heat pump, sun panels
Project: 2006
Building start: 2007
Architecture: in co-operation with Merje Müürisepp
---
Photography: Märten Kross 1x, Kaido Haagen 2x (Eesti Ekspress)
Completed: 2005
Architecture: in co-operation with Raivo Kotov at
KOKO architects
.
Awards:
Best new building in Tallinn historical environment 2005
Publications:
Karin Paulus.
Šeff sürpriis / Stunning Surprise
Eesti Ekspress Areen 2005.08.10
Karin Paulus.
A new dimension to the city of wannabes?
Estonian Art 2' 2005
Liina Jänes, chief specialist of milieu protection areas at the Tallinn City Government, says that when they have recently needed to point out to developers that new architecture can be respectful of the milieu, they have mentioned Vabriku 33 as a positive example. "Some are already learning," she adds with contentment.
---
Completed: 2003
Architecture: in co-operation with Raivo Kotov at
KOKO architects
The 5-storey Soviet era post-modern uncompleted office block was added a storey and turned into a attractive block of flats.
---
Photography: Eesti Betoonelement
First phase: 2000
Architecture: in co-operation with Indrek Näkk at Indrek Näkk architecture studio
Publications:
The Phaidon Atlas of Contemporary World Architecture (2004). In the atlas, the building is mentioned for giving a usually dull facory building a sensitive home-like feeling. It is one of first four Estonian buildings published in the atlas.
---